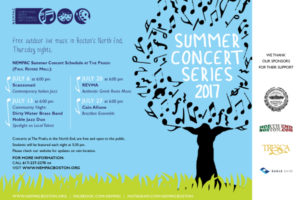 NEMPAC presents:
GREEK ROOTS CONCERT
REVMA's Fabio Pirozzolo and Sandy Theodorou joined by Mal Barsamian
Thursday, July 20 2017
5:30-5:50 NEMPAC Student Feature
6:00 – 7:30 GREEK ROOTS MUSIC CONCERT
Paul Revere Prado (Paul Revere Mall)
Hanover Street, North End (Boston, MA)
Rain Location: Boston Public Market, 100 Hanover Street, Boston
Free to the public
Presenting the Music of Greece: lyrical and springing island melodies, mesmerizing polyphonic Epirot mountain laments and celebrations, powerful odd-metered Macedonian and Thracian rhythms, and the delicate modal tones of urban Smyrnaika, all shaped by a history drenched in struggle, resilience, and philotimia, and charged with Greek life-embracing passion and wit.
www.matoulamusic.com
www.nempacboston.org
Parking: suggested parking "Parcel 7 Garage", 136 Blackstone St, Boston, MA 02109.
NOTE: get a validation stamp at the Boston Public Market (i.e. By buying a coffee) that will allow you to stay up to three hours for 1$ per hour.